Profile

Work In Progress.
Life of Heinrich.
Free Account
Created on 2012-01-25 21:57:05 (#1453436), last updated 2014-07-18 (165 weeks ago)
472 comments received, 227 comments posted
242 Journal Entries, 32 Tags, 0 Memories, 1 Icon

About

Mini Bio
After 12 years of online fanfiction writing, I decided to become a professional author. My first story was self-published in February of this year. It wouldn't have been made possible if not for the encouragement of my friends and my dear editor, CR.
The past two years have been a crazy ride and things are starting to come together for me. I've returned to my family's ancestral home. I'm getting my driver's license. My writing has taken a healthier turn that's left me feeling, for the first time, I might make it as an author.
For experience, I've had over nineteen years of original writing under my belt, but nothing ever finished to the point of publishing until now. Instead, I focused more on my fanfiction. With over sixteen years of writing offline, and over eleven online, it seemed like a natural time to start my novel writing again. In the past, it has been more a hobby. This time, I'm trying something new, hopefully, better.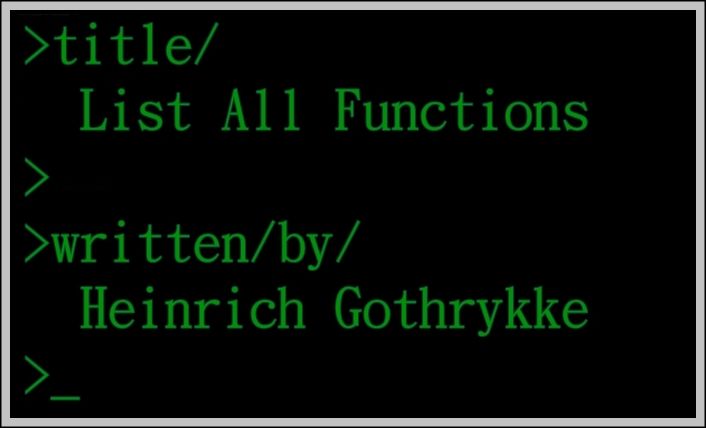 My first novel, "List All Functions", is available on
Amazon.com
,
Barnes&Noble
,
Lulu.com
,
Gumroad
, and
iTunes/iBooks
.
All media posted to his journal, including writings, pictures, digital images, videos, etc., unless stated otherwise, are copyrighted to Heinrich Gothrykke, aka me. Do not repost or publish without written permission outside fairuse laws and doctrine. If you reference under the terms of parody, mention, recommendation, or fairuse, please let me know.
This will be updated in: _ Days.
I'm moving into the technological brainfart age:
Follow me on Tumblr
And
keep up-to-date on my brainless ramblings on twitter.
Twitter, the user's intelligence level is in the name.
© Heinrich Gothrykke 2012, 2013, 2014

Connect

People
[View Entries]

Communities
[View entries]

Member Of (2):

Subscriptions (4):

Administrator Of (0)

Feeds
[View Entries]

Subscriptions (0)

Linking
To link to this user, copy this code:
On Dreamwidth:
Elsewhere: